Elise Memmo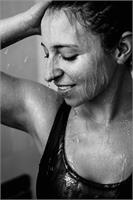 Elise is a Handle Bar master instructor. She is among our most well-versed instructors in The Handle Bar method. She trains new instructors on our teaching style and is a master of her craft.
Elise fuses her passion for heart-pumping music with a mentally and physically challenging ride, creating a mind-body-cardio-dance party on the bike.
Elise Memmo instructs the following:
HB 45 is a 45 minute cycling session set to the beat of the MUSIC that gets you going. Weighted bars are used for a portion of the workout to incorporate upper body toning into the class. The format is designed to challenge your endurance and rid toxins from your system. Especially great for a Sunday evening restart. ;) The workout is infused with intensity, but still suitable for all skill levels. Get ready to SWEAT, INSPIRE, TRANSFORM, and RAISE THE BAR.